Sancho is a latin american stew that I grew up eating Puerto Rican-style from my mother and grandmother's kitchen. My variation uses turkey thighs and drum sticks.
I am a soup and stew nut. There, I said it. Let's face it, soup may not be the best thing in the world but it is unadulterated comfort food. Can you say: feeeeel goooood fooood. Like the kind that makes you feel whole after a long hard day at work. Or the kind that keeps you warm inside after being out in the blustery cold.
Recipe type: Soup

Cuisine: Puerto Rican

Serves: 6
INGREDIENTS
¾ cup cilantro, rough chopped

5 cloves garlic, minced

½ small red onion, chopped

3 tbsp butter

2 pounds turkey drum sticks, thighs

3 corn on the cob, chopped

4 carrots, peeled, chopped

3 sweet potatoes, peeled and chopped

4 red potatoes, peeled, chopped

2 yautia, peeled, chopped

2 yucca, peeled chopped

4 green cooking bananas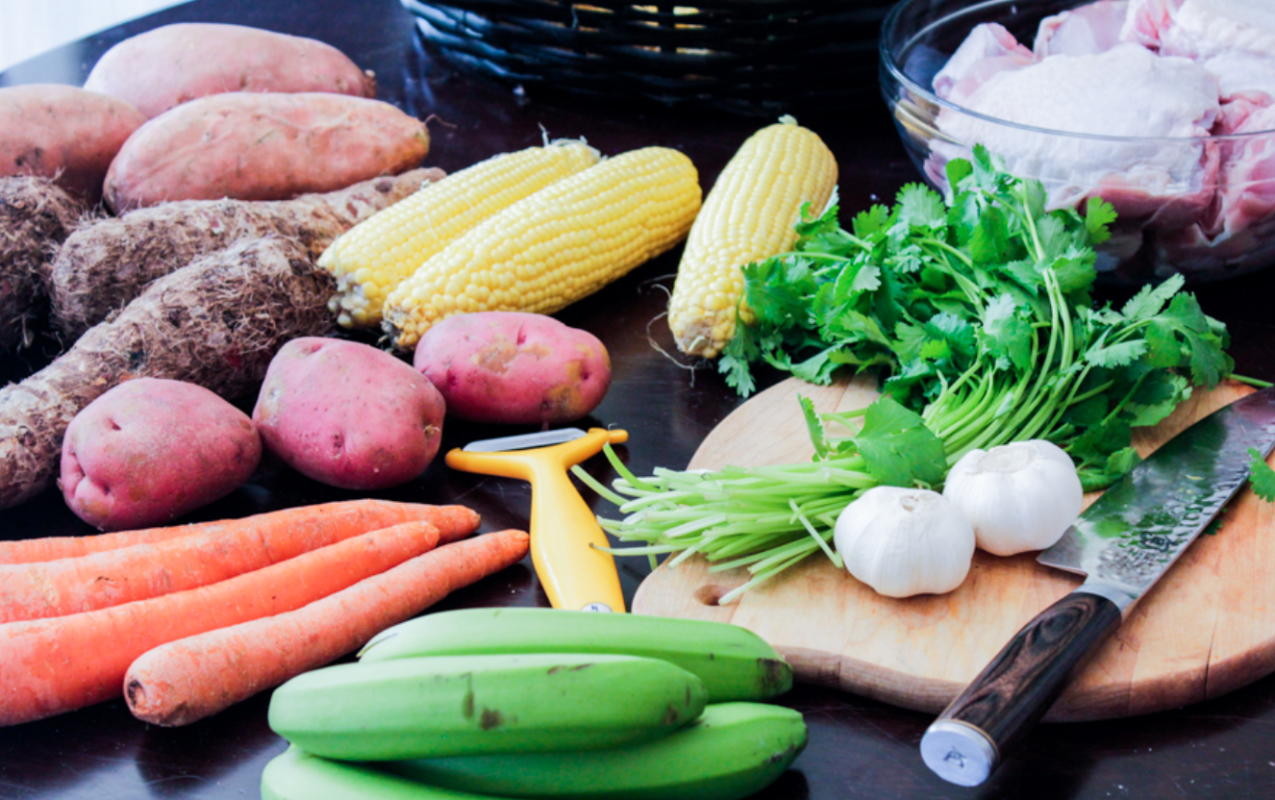 INSTRUCTIONS
Saute the cilantro, garlic and onion in butter over medium heat. Add the turkey and toss the turkey around to coat with the sautéed aromatics.

Add all of the vegetables and fill the pot with water. Season with sea salt and cracked black pepper. Bring to a boil over medium heat for a half hour and reduce heat to low for remaining hour or hour and a half.

Stir stew and make sure turkey meat is easily separating from the bone. Salt to taste.
Tips:
Make sure you use a heavy bottom pot or the ingredients at the bottom may cook unevenly.

Make sure to clean your Cilantro thoroughly.

Cook the soup for a full 2 hours if you want the meat falling off the bone.

You can serve with a little squeeze of lime for a flavor enhancer.
If you want more of a soupy consistency, limit the amount of stirring you do. For a thicker stew, stir occasionally as the sweet potatoes, red potatoes and yucca will break down and thicken the stew.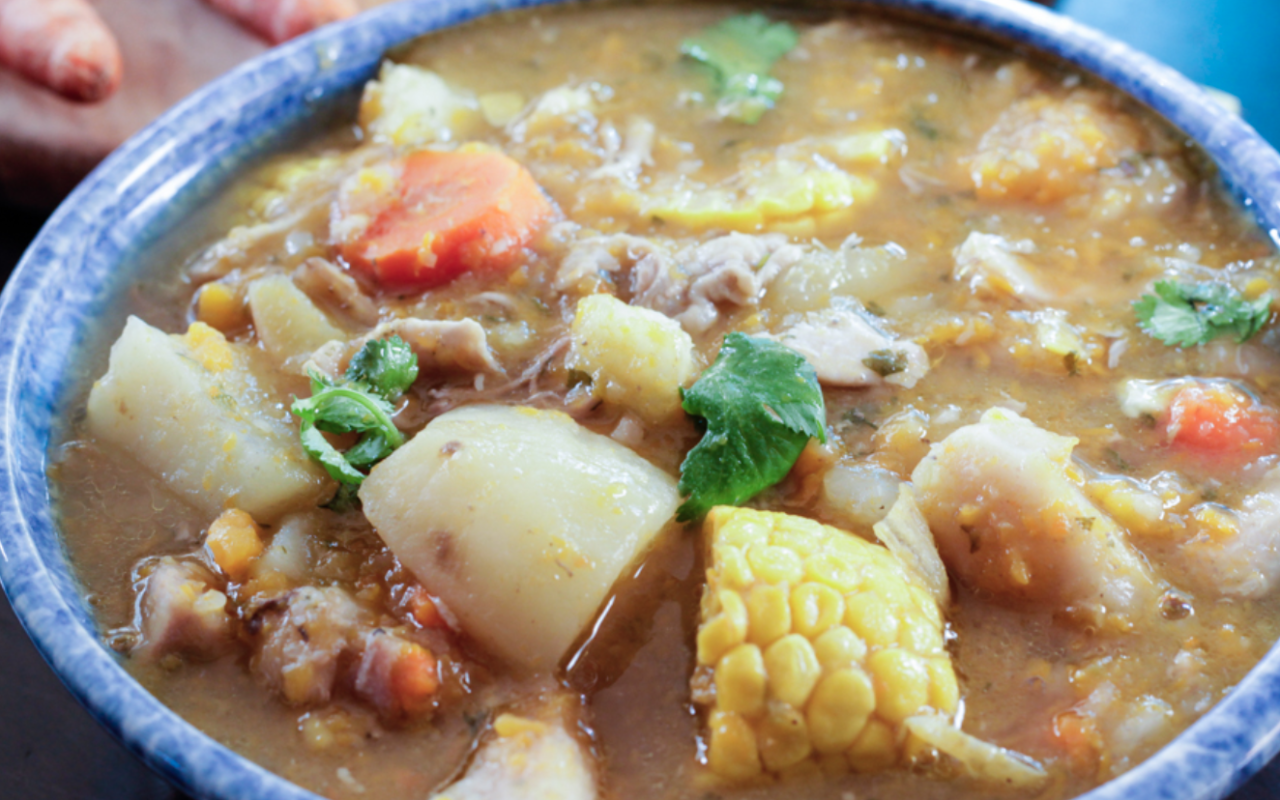 Well, this soup is true and dear to my heart. I grew up feasting on my mother's and grandmother's Sancocho, a Puerto Rican stew loaded with not just your run-of-the-mill root vegetables, like your red potatoes, sweet potatoes but we add Yucca and Yautia. Ohh yeah. Yautia is this creamy, pink, potato-like vegetable that is just dreamy. It's the cousin of the Malanga and it's skin's texture is pretty hairy and dirty. 
You have to peel it and cut it up in chunks. Sancocho requires quite a chopping commitment but it is truly a labor of love. In addition to the root vegetables, you add carrots, green cooking bananas, corn on the cob, cilantro, garlic and onions for the aromatics. It's a whole harvest in a pot and it is deeeeelicious.
We made Sancocho for my in-laws over the weekend. We made two big pots for a party of 9 and finished off almost a whole pot so this recipe can handle a large party or seconds and thirds. I love to use fresh, chopped turkey legs and thighs because of how its hearty flavor infuses the stew. For my vegan friends, this stew can stand up on its own without any meat and is equally as  satisfying. 
This stew is pretty easy to make. I like to sautee the cilantro, garlic and onions in some butter or oil. I then add the turkey and toss it in the sautéed aromatics before I start adding the veggies. I usually fill up my pots about 3/4 of the way with veggies then fill with water. I add sea salt and cracked black pepper and let it go for at least an hour and a half for the veggies and meat to cook fully but I like to cook it for at least 2 hours so the meat can fall off the bone.
After I mince the garlic, chop the cilantro and onions, I sautee them in a 6-quart stock pot then add my chopped turkey. They play around in the aromatics a little until fully coated.
So make this if you wanna break up the week with something lighter and veggier. Make this if you want to make something your family will want to eat a couple of days in a row and give yourself a little cooking break. Make this if you want something hearty and tasty, but healthy. Or you can mentally bookmark it for that, dare I say, chilly night when you wanna warm up a little. I know! Summer's almost over but at least you've got this beauty to look forward to.
To your warm and cozy insides!