Well, I have been trying to find healthier alternatives to some of my favorite cravings. For realz! Like, I have seriously been taking that extra mental step before I throw together my walnutty, raisiny, chocolatty bon bons or pumpkin pecan rolls to ask myself: How can I make this healthier? Or can this even be made healthier? This has really helped to bring an added dimension to meal time or snack time.
In my house, healthy must also mean flavorful! creamy! rich! and outta sight dreamy!  So when I saw the creamiest, thickest, chocolattiest, banana milk shake  recipe, not only did it get my attention – wait for it- it was Vegan! Yay! I've made it about 10 times so far and that's not including the times I've made it for hubby. I mean, I just can't get enough of it and neither can the fam. So naturally I had to share it with you guys!
My version has rolled  oats, agave nectar for some healthy sweetness, flax seed for some potent Omegas, cinnamon for some added flavor, and my bananas are frozen.  This recipe is so easy to make, my kids are making it almost daily and adding it to their regular protein shake. I have been making it for breakfast, but this week, since I'm on a self-imposed-pre-vacation slim-down, I'm having this creamy, chocolatty yumminess in place of both breakfast and lunch. But if YOU are craving something sweet and guiltless, reach for this Vegan Chocolate Banana Beauty. Oh yeah. Words can't describe…
I start the night before by soaking the rolled oats in coconut milk, which come to think of it reminds me of a creamy rice pudding  <- that's already a good sign. High five comin' right atcha!
Then, I peel a couple of ripened bananas and stick them in the freezer.  Did you know I have a thing for bananas? In the morning, or lunch or whenever,  I blend the oatmeal, frozen bananas, cacao powder, agave, flax seed, coconut milk, cinnamon and almond butter  in a blender and I'm having dessert for breakfast YO!
Vegan Banana Chocolate Milk Shake Recipe
PREP TIME 10 mins
COOK TIME 1 min
TOTAL TIME 11 mins
Recipe type: Beverage
Cuisine: American
Serves: 1
INGREDIENTS
½ cup Rolled Oats
¾ cup of Coconut milk for soaking the oats
2 Ripe bananas, peeled and frozen
¾ cup Coconut or Almond milk for the shake
1 tablespoon Almond Butter
1 tablespoon Cacao Powder
1 tsp Agave
¼ tsp Cinnamon
1 tsp Flax Seed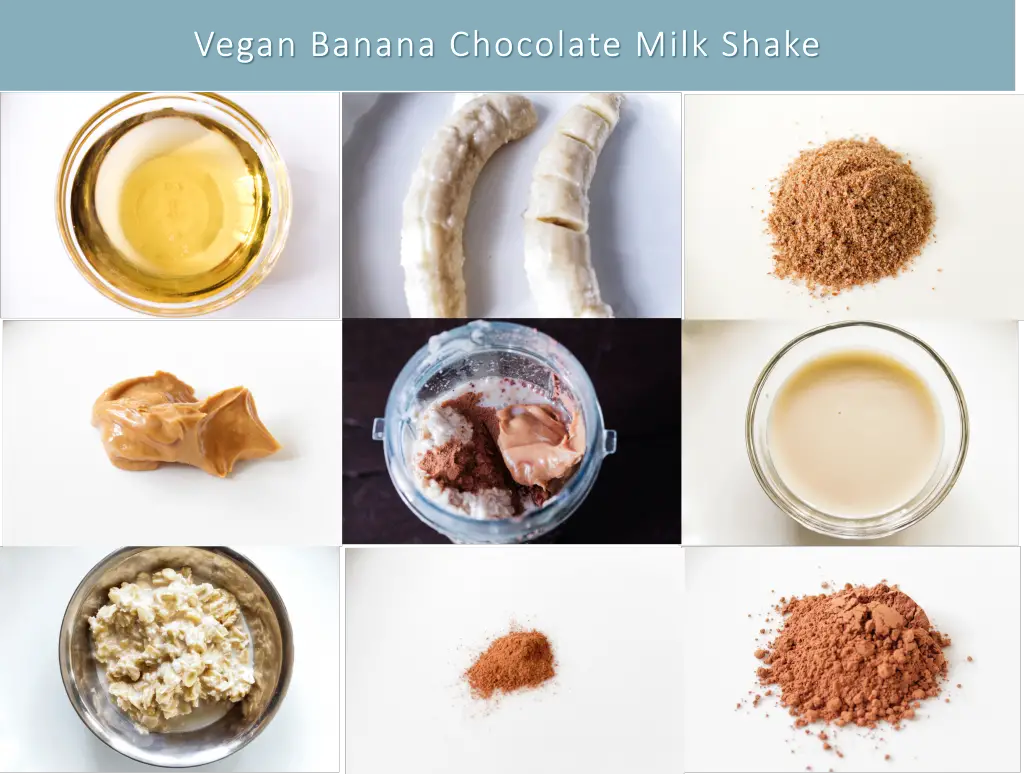 INSTRUCTIONS
Prep
Soak the rolled oats in the Almond or Coconut milk for a minimum of 4 hours or overnight.
Combine all ingredients in blender and blend until you have a smooth consistency – should take less than 45 seconds.
You too are gonna want to make this..a lot.. AND even enjoy tricking your mind into thinking it's made of creamy, chocolate ice cream with swirls of fudge and sweetly, perfectly-ripened bananas and vanilla whip cream- very much like my un-vegan  Chocolate Monkey ice cream. Oh how self-deception is Bliss, though. Wouldn't you agree? Works for me and I can just hear my hips saying "Thank You". You are welcome.
Some Thoughts To Share
I consider myself a "healthier" eater  which means I eat and cook pretty well-balanced meals. My motto is balance. If you eat healthy most of the time you should treat yourself to something decadent and rich – but obviously don't overdo it. Either extreme could be unhealthy. So I have developed my own methodology towards eating healthy- if you will:
I use ground turkey, chicken breast, pork, turkey and chicken tenderloin in most meals

If I do fry, it's once or twice a month, if that

We eat beef maybe once or twice per month

Don't buy sodas

Make my own juices, lemonades

Make my own ice creams minus all the preservatives and junk

Make my own strawberry jelly

Make my own marinara sauce, pickles, pesto, sofrito, breads and bypass all the 10-syllable junk and preservatives

Buy nitrite free lunch meats

Grind my own coffee

Do substitute sugar for Agave, Honey, Maple Syrup or Coconut sugar in some dishes

Use seasonal, organic fruits and vegetables whenever possible

Eat mini portions of rich, decadent foods
I don't abstain from rich foods but I do use common sense to achieve a balance and take careful thought to eating foods that make me feel good inside and out. HOWEVER, I do take the occasional dessert break- and I do mean occasional. Did you know I have "sweet teeth"? Anyway, I love my Vegan, Pescatarian, Paleoan friends – just consider me Omnivorian!  I like to eat just about anything and I'm pretty open-minded but stubborn too – sometimes (<-do they cancel each other out? Maybe lol) as long as I'm  eating feel-good, comfort food.