This is one of the most delicious, easy, and quick meals you will ever make. It uses only 4 ingredients, can be prepared ahead of time and frozen or refrigerated until ready to use, can be cooked in the oven (my preference) or the crock pot, and is loved by kids and adults. Another reason I love it is because it's easy to keep the ingredients in the pantry and freezer and make on those busy days when I hardly have any time to spend in the kitchen. One time a friend told me that she had nothing in her kitchen to make for dinner. I lent her a can cranberry sauce and she used the other ingredients from her pantry to whip this up quickly.
I got the recipe at my wedding shower and stored it away for years before trying it. The title said "Barbecue Chicken," and I was never too interested in a complicated barbecue chicken recipe, since you can just slather a bottle of barbecue sauce on chicken and call it good. But, I decided to try it out and am SO happy I did. It is definitely not barbecue chicken. I like it better!
INGREDIENTS: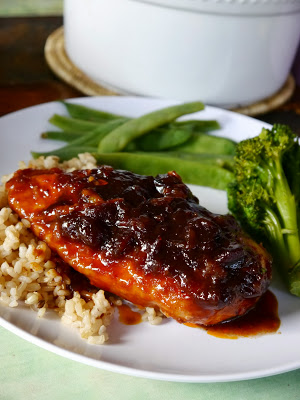 6 boneless skinless chicken breasts
1 (16 oz.) can whole berry cranberry sauce
1 (1 oz.) envelope Lipton onion soup mix
1 cup Russian, French, or Catalina salad dressing
DIRECTIONS:
1. Preheat oven to 350 degrees F. Grease the bottom of a 9×13 baking dish. Place chicken breasts in a single layer in the baking dish.
2. In a medium bowl, combine cranberry sauce, soup mix, and salad dressing. Pour over chicken.*
3. Bake, uncovered, in oven for approximately 50 minutes, or until chicken is cooked through. Serve over rice (brown is our favorite!)
*At this point, you can put all of the ingredients in a freezer bag and freeze for another day. Just be sure to thaw before cooking. To cook in your crock pot, place ingredients in the crockpot and cook on low for 4-6 hours. To prepare the day before cooking, or the morning before, just cover and refrigerate until ready to cook.