This week I was going to make a post about Banana Caramel Coconut Macaroons, then I realized I've been on a sweet inspiration overload this summer, can't you tell? Oh, ok cause there was the Vegan Strawberry Chocolate Shortcake, and then the Vegan Banana Split Ice Cream  and of course, we can't forget the Coquito Affogato and then… I lost the urge to make something desserty…no inspiration for something sweet. Hmph.. So I waited for a savory inspiration to come…and it came…in the form of this most amazing Cheesy Parmesan Cilantro Rice!
Cheesy Parmesan Cilantro Rice Recipe: college-kid certified √ and hubby approved ♥
PREP TIME 10 mins
COOK TIME 30 mins
TOTAL TIME 40 mins
Recipe type: Grain
Cuisine: American/Spanish
Serves: 6
INGREDIENTS
2 cups white rice
4 cups water
1¼ tsp sea salt
1 tbsp oil (olive, vegetable or coconut)
1 cup cilantro
2 tomatoes, small
8 cloves garlic
2 cups cream
1 cup Parmesan Cheese, finely shredded
¼ tsp sea salt
pinch of white pepper
INSTRUCTIONS
Wash rice thoroughly removing any stones.

Bring 4 cups of water, rice, salt and oil to boil over medium heat, covered. Allow rice to cook for 15 minutes then remove lid and stir the rice and cover again. Reduce heat to medium low. Let rice cook for another 10 minutes. Remove the lid and stir rice making sure it is not sticking to the bottom of the pot. Let the rice cook for another 5 minutes without a lid then take off of heat.Texture of rice should be soft and fully cooked.
Thoroughly clean the cilantro and rinse off any dirt and grit. Roughly chop the cilantro, garlic and tomatoes. Add aromatics to a medium-sized saute pan cook and cook over medium heat until moisture is cooked away. Add half of the heavy cream, stirring constantly allowing the mixture to boil a little.
Add the remaining cream and continue to stir. Lower heat and add the Parmesan cheese slowly stirring it into the creamy mixture. The mixture will begin to thicken. Continue to stir until the mixture incorporates the aromatics. It will be tinted by the tomatoes and have a slight pinkish tinge.

Add salt to taste and white pepper.
NOTES
You can garnish rice with cherry tomato halves and cilantro. Consume within two days.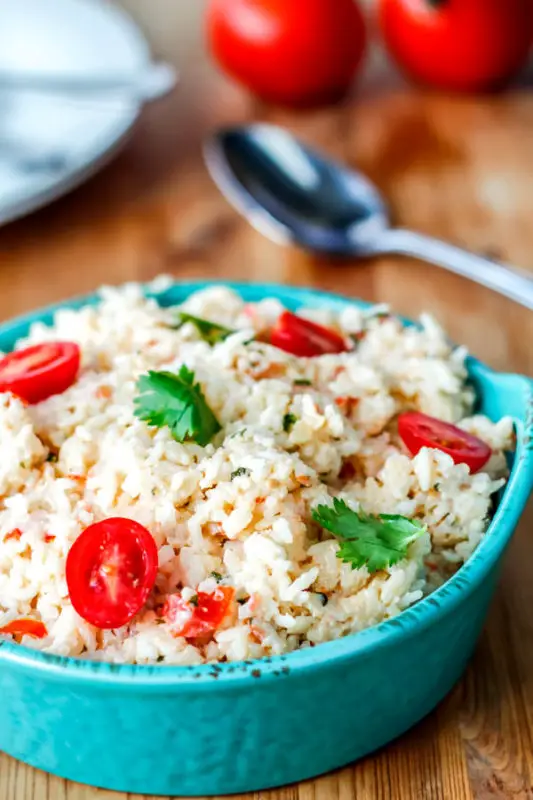 I'd made rice the other night for dinner – I'm Puerto Rican and eating rice is as regular as drinking water in our household – but I didn't want regular white rice though. So it hit me – CHEESY RICE – I could make a kind of risotto rice. I know the technique would be obviously different since my rice was already cooked, but what if I added a cheesy sauce to my rice like the kind you'd add to an Alfredo pasta? Double Yum!
HELLO Inspiration!  Welcome my old friend:)  Now the wheels were turning.
I already had Parmesan Cheese
I had heavy cream
I had some chopped up cilantro (there's almost always cilantro in my fridge) garlic and diced  tomatoes.
I threw those in a sauté pan until most of the moisture was cooked away. Talk about an ahhhhh-mazing aroma. Raise your hand if you love the smell of sautéed garlic and cilantro wafting through the air at any given time? That's what I thought.
Then I added a little cream, continuously stirring, and as the sauce got thicker, I added Parmesan cheese.
What I ended up with was a dreamy, creamy Cheesy Parmesan Cilantro sauce – now all I needed was the Rice!
So I added the rice in small portions into the pan and kept stirring the rice with the sauce until it was completely infused. Amigos, I can't think of a better way to transform white rice! And it's a lot easier to make than risotto and tastes as goooooood.
SO THIS IS WHEN I KNEW I HAD TO BLOG ABOUT THIS RECIPE…
Right after I woke up this morning, my son kindly asks, "Mom, can you make me some of that risotto so I can pack it for lunch?" For a second, I thought I was stuck in the Foodie Twilight Zone! Who does that? Who makes Cheesy Parmesan Cilantro Rice at 7:30 am? Foodies do, and food blogger mommies do too, that's who. ♥
I didn't name it risotto because I could imagine hearing the gasps in the culinary cyber world citing incorrect technique and I wouldn't debate it- at all. Let's just say it's a Risotto Hack..hehehe..
Risotto is a cheesy rice dish made with Arborio rice, an Italian round rice, and you actually add the cheese as the rice is cooking – not after. I can guarantee, though, your taste buds won't mind either way.
This dish is so versatile you can make it a one-pot meal by adding chunks of cooked chicken breast, spring peas or chopped spinach and booyah! High-five for one-pot meals.
You can garnish with chopped tomatoes to provide a nice balance: creamy/tartness