Truffle is a valuable, expensive delicacy for which some people are ready to pay even thousands of dollars. The very name "truffle" sounds exquisite and luxurious. What is a truffle, and what is its attractive power? How do you eat truffles, and what goes well with them?
Such a rare delicacy as truffle, in Italian Tartufo, is found in Italy, for example, in the regions of Piedmont and Umbria. In Italy, it is considered a gourmet dish and is commonly used to flavor dishes such as risotto and pasta. Truffle goes well with eggs, it is also used in the form of a cream, spread on toast and bread. 
What goes well with truffles? Truffle goes well with such simple dishes as fried or baked potatoes, mashed potatoes, pasta, and risotto. Truffle can be added to carpaccio, grated on an omelet or scrambled eggs, or put on foie gras. A more sophisticated way to add truffle to the boiled meat (beef, pork), or fish (salmon, bass). Truffles are versatile in use and can decorate almost any meal.
Truffle is a "self-sufficient" mushroom. You do not need to grate truffles onto caviar. The simpler the base dish, the better the taste. The aroma of white precious truffle is especially enhanced on plain scrambled eggs.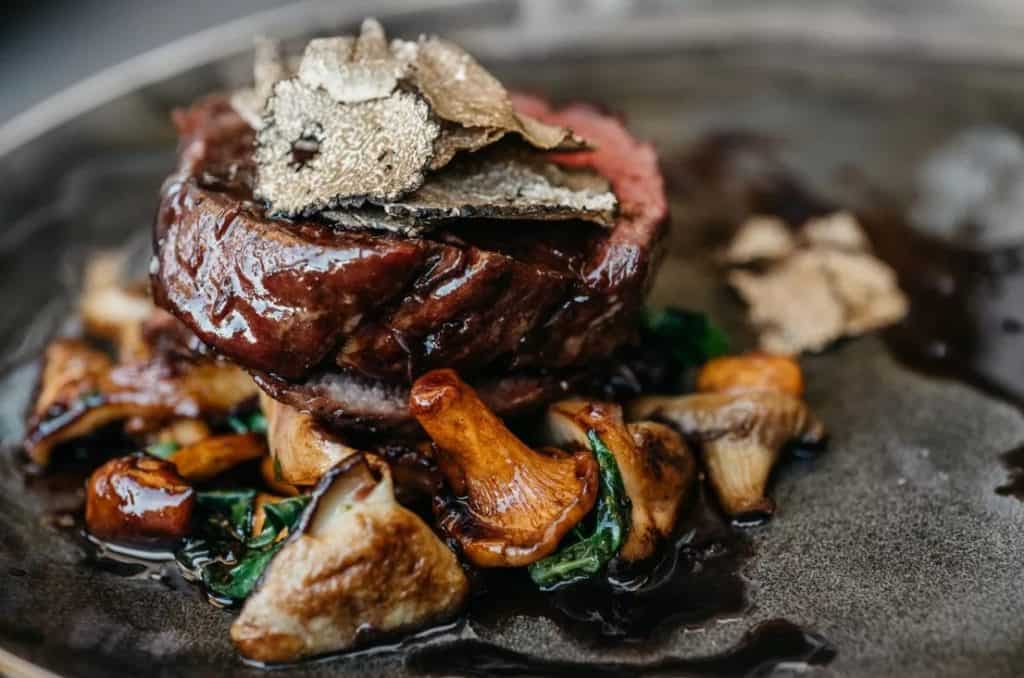 Therefore, the classic combinations of foods that go with truffles are:
Bruschetta

(just a toasted slice of bread drizzled with good olive oil with grated truffle on top)

;
Scrambled eggs or omelet;
What goes well with white truffles? Serve raw white truffles with pasta dishes, eggs, and with hot and cold dishes. A white truffle goes well with dry-cured ham, smoked sausage, and pâté.
What goes well with black truffles? Black truffles can be mixed with soft cheese and served with bread. Black truffle goes well with red meat dishes or salads. Also, the mushroom is added to sauces to add flavor.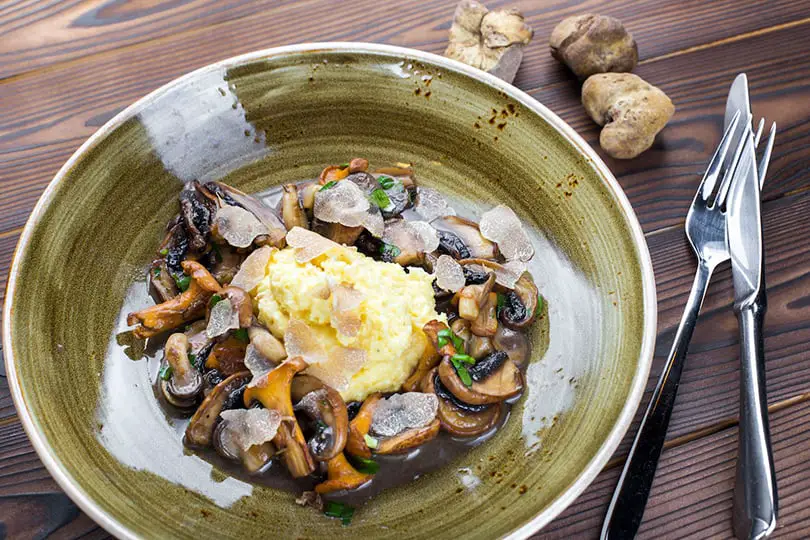 Generally speaking, the truffle goes well with everything. However, it still wins in dishes of "passive taste" made from products that do not have a distinct taste of their own. So, according to the French, all truffle recipes should be prepared based on eggs (omelets, beaten eggs, soufflé with truffles). Truffles also go well with poultry dishes, some seafood, or sauces. 
Can you eat a raw truffle? Yes, you can eat raw truffles if it is a white truffle. You should eat white truffles raw because the truffle has a strong aroma with a light garlic tone that fades when cooked. Black truffles can also be eaten raw, but it is still better to cook them with meat or add them to sauces. Black truffle needs to be cooked to fully develop its taste and aroma.
Slices of raw truffles are often placed under the skin of a bird (chicken, for example) and left in the refrigerator overnight — the aroma of the finished fried dish will be unusually good. These delicious mushrooms successfully complement meat dishes, fish dishes, salads, and sauces and even make a wonderful alliance with desserts. 
Truffles with cheese are also good. What cheese goes well with truffles? Perigord chefs often simply mix black truffles with Cabécou goat cheese. Parmesan cheese also goes well with truffles. 
What meat goes well with truffles? Any meat goes well with truffles, however, chefs highlight that raw beef, and fried veal is perfect for truffles. Truffles are served with capon, veal, and sometimes langoustines, cooked in Asti wine, sprinkled with parmesan, and seasoned with lemon-based vinaigrette sauce. A sauce made with white Piedmont truffles, butter, cream, garlic, and anchovies is seasoned with spaghetti or boiled vegetables, which are served cold.
Truffles are used as a decoration for grilled meat and chicken or risotto. After you clean off the ground from the fresh mushroom and then scold subtly right into the pot with steaming cheese fondue, the surprise will be replaced by equally sincere admiration, especially if the meal is accompanied by a glass or two of Dolcetto d'Alba. Fondue is a classic dish of the Vale d'Aosta region, but its amazing ability to magically combine with white truffles made the dish incredibly popular in neighboring Piedmont.
White truffles from Piedmont are an unsurpassed gastronomic pleasure. In Bologna, truffles are prepared like this: After moistening and cleaning the mushrooms, they are finely chopped, parmesan is also thinly sliced ​​and placed in a tin-plated copper pan, seasoned with salt, pepper, the finest olive oil, the traditional Modena balsamic vinegar of 100 years old and put on fire. As soon as the stew begins to boil, squeeze a lemon and immediately remove it from the heat. 
The white truffle is easy to prepare: you just need to grate it on top of a dish that is already ready. White truffle goes well with homemade classic pasta such as thin tagliolini pasta, poached eggs, parmesan sauce, potatoes, veal, and beef. For example, here's a great combination: filet mignon, port wine sauce, foie gras, and white truffle. It works great with cheeses and vegetables such as asparagus. It is very good, together with corn salad leaves.
Black truffle has a slightly weaker aroma, but only when it is raw. But the taste and aroma open up after heat treatment. The types of black truffles also differ in the intensity of aroma, also, they differ slightly in taste. For example, the aroma of the black truffle, whose season starts in mid-May and lasts until September, resembles a porcini mushroom.
Black truffle is ideal for sauces. For example, melt butter in a saucepan, add port wine and evaporate this mass until thick. Then add a black truffle, cut into the finest petals, and simmer over low heat for another 10-15 minutes. In the finished sauce, grate a fresh truffle too. This sauce is well served with fillet mignon and, for example, venison.
It is interesting to prepare butter with black truffle, which can then be used anywhere. The truffle must be mixed with the butter and brought to a temperature of 30–40 degrees. Then the taste of the truffle will open and mix with the oil. Then it is great to add this oil to a paste, for example, to the tagliolini with cream. Or add to any dish where butter and mushroom flavor are appropriate.
However, the main role in the dish will be played not by the truffles themselves but by the main products of a particular dish (meat, fish, poultry) and sauces. Finally, not everyone can experience the gastronomic delight of a truffle. What is the reason for the centuries-old excitement around this unsightly mushroom? Every truffle fan has a different answer to this question. Truffle is not food but a pleasure catalyst.
What do you drink with truffles? Chefs advise drinking wine with truffles. The best wine for truffles is Nebbiolo. This red variety is produced in Piedmont, which is the region where the best Italian truffles are harvested. The bright fruitiness of a young Nebbiolo creates a pleasant contrast with the spicy, earthy, mushroomy aroma of the truffle. 
For example, a risotto decorated with fine truffle slicing can harmoniously match up with Langhe Nebbiolo by Giorgio Pelissero. The winery of the charismatic Giorgio Pelissero is a typical representative of the region, and the wines are distinguished by exquisite taste and aroma. 
On the other hand, the spicy tones of truffle go well with the tertiary aromas that appear in aged wines. These include aged Nebbiolo, age Sangiovese. Finally, France is also the home of the truffle. Therefore, old Burgundy Pinot Noir or Bordeaux will go well with a truffle. Rough young tannins can break the delicate dish that truffles are usually added to. This should be taken into account when choosing other options for a drink.
Finally, wine and truffles are not an easy task. Classic reds are considered St. Emillion, Pomerol, Cahors; of the whites, the most successful are Corton-Charlemagne, Montrachet, or the aged white Bordeaux. Strange as it may seem, but many experts recommend experimenting with mature, fermented in oak barrels Chardonnay, as well as aged and high-quality champagne.
What herbs and spices go well with truffles? The best spices for truffles are white pepper, nutmeg, oregano, allspice, black pepper, fenugreek, and bay leaf. The taste of truffles will become richer and brighter if you add nutmeg, white pepper, and coriander to the dish.